PlayerUnknown's Battlegrounds si aggiorna con un segnalatore per l'aereo, modalità spettatore migliorata e nuove skin per le armi
Tanti aggiornamenti interessanti per PlayerUnknown's Battlegrounds.
Nella giornata di oggi, gli sviluppatori di PUBG Corp. hanno pubblicato una nuova patch per i server test di PlayerUnknown's Battlegrounds su PC. Si tratta di una patch abbastanza cicciotta, la quale introduce nuovi contenuti e qualche miglioria generale.
Questa patch, la numero 11 per la precisione, introdurrà un indicatore che segnalerà la traiettoria di volo dell'aereo. Si tratta di uno strumento molto utile per chi vuole pianificare in anticipo i propri lanci. L'indicatore apparirà sulla mappa fin dal vostro ingresso nella lobby e sarà attiva fino al paracadutarsi dell'ultimo giocatore.
In aggiunta, la nuova patch permette ai giocatori di osservare come spettatori le partite custom (ammesso che l'admin della partita vi dia il permesso e che il match non sia protetto da una password a voi ignota).
Infine, l'update aggiunge anche delle nuove casse, chiamate Equinox, all'interno delle quali è possibile trovare delle nuove skin per le armi, inclusa la padella.
Qui di seguito, vi riportiamo il changelog dettagliato dell'update:
Patch 11
UI/UX
A marker has been added to the map that allows players to check the flight path of the plane.
The path is visible from when players are at the waiting lobby up until the point when they fall down to their final drop destination.
Bug fixes
There should no longer be excessive blood effects when you're getting shot in FPP mode or while aiming down sights.
Fixed issue that sometimes caused blood effects to not show up when shooting other players.
Fixed an issue that was causing character silhouettes to remain visible while inside smoke
Switching weapons while prone should no longer cause certain animations to break
Custom game spectating
In the lobby's custom match list, you can select an ongoing game and watch it in real time.
Games that have the Public Spectating option set to "On" can be watched in Custom Match.
For private matches, you can spectate the game by entering a given password.
The custom game real-time spectating function is still in an early development stage, and some functions may be unstable. We appreciate your patience while we work out the kinks.
Crate system updates
Weekly random crate reset date is changed to every Thursday, 00:00 UTC
This change will be applied from this week
New crates and skins
One new paid crate and one new frying pan skin has been added.
For the purpose of security verification, Equinox crate x10, Weapon Skin Key x20, Early Bird Key x20, 100K BP will be distributed to all accounts.( Test server only)
The frying pan skin, "Target Practice", can be purchased separately as an individual item for 5,000 BP. It can be purchased only once per account.
New paid crate, "Equinox Crate", will offer weapons skins. It can be earned with 25% chance as a Weekly Random Crate.
"Equinox Crate" can be opened with Weapon Skin Key, which can be purchased at the Steam store.
There is one bonus item. If you're really lucky, you can get that skin as a bonus on top of the crate's normal reward items
Equinox crate skins drop rates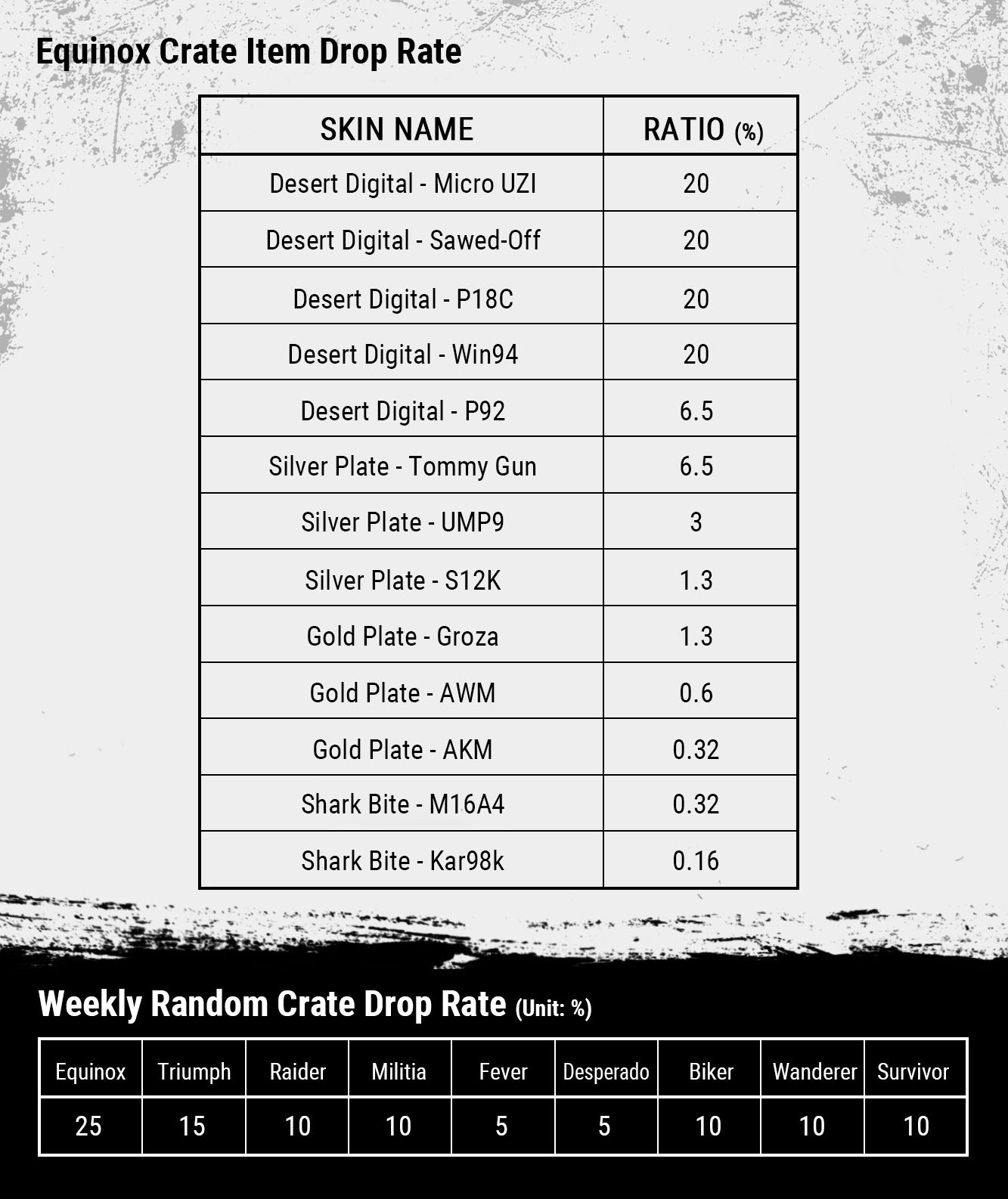 Cosa ne pensate?
A proposito, sapete che il creatore di PlayerUnknown's Battlegrounds è intenzionato a supportare il gioco per 20 anni?